The
Centerville Community Band
was founded as a summer band in 1985 by Mr. Wayne Markworth, former Director of Centerville High School Bands. After the second summer about a dozen members decided to make it a year-round band with Mr. Markworth serving as director; he then turned it over to Diana Wightman. The Band was and is supported in part by the City of Centerville. From the original 20+ members we have grown to more than 75 strong from various parts of the Miami Valley.
The band rehearses throughout the year on Tuesday evenings from 7:00 to 9:00 PM in the Hadley E. Watts Middle School (7056 McEwen Road) band room. In addition to a summer schedule of concerts at Stubbs Park, the band performs throughout the area supporting civic ceremonies and community events.
DIRECTORS
Tom Pfrogner, Director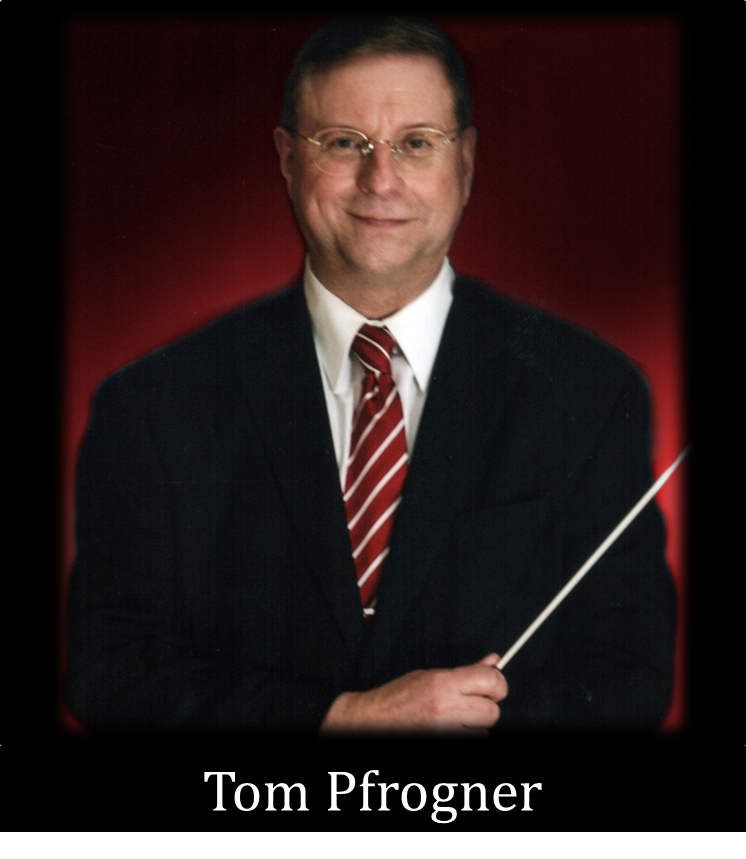 Band leader, trombonist, musical arranger, vocalist and music educator, Tom Daugherty Pfrogner has been associated with the music business since 1979 and is a former high school band director with over thirty years experience. Tom has been the musical director of The Tom Daugherty Orchestra and has produced several recordings, television shows, and live radio broadcasts.

As a professional trombonist, Tom has performed with many outstanding groups including The Tommy Dorsey Orchestra, The Jimmy Dorsey Orchestra and jazz artists such as Urbie Green, Maynard Ferguson and Dizzy Gillespie. He was a student of Dick Shearer, who was lead trombonist with the Stan Kenton Orchestra. Tom Pfrogner has been a featured guest soloist with many university groups. He has been a guest soloist and has conducted The Air Force Band Of Flight.

As a musical arranger, Tom specializes in "Big Band" transcriptions and has written over 900 musical arrangements and transcriptions. Tom arranges music for many groups throughout the country and in Europe including: The Air Force Band Of Flight, The Glenn Miller Touring Orchestra, The Gene Krupa Orchestra, The Rob Zapulla Sinatra Tribute Show, and Walt Andrus (former vocalist with The Tommy Dorsey Orchestra. More recently, Tom Daugherty has been featured in the new book "Big Bands & Great Ballrooms" by Jack Behrens. Tom is also the conductor of The Glenn Miller Birthplace Society Festival Big Band. Recently Tom scored music for the independent film "The Rock Of Gibraltar".
Denny Dutcher, Associate Director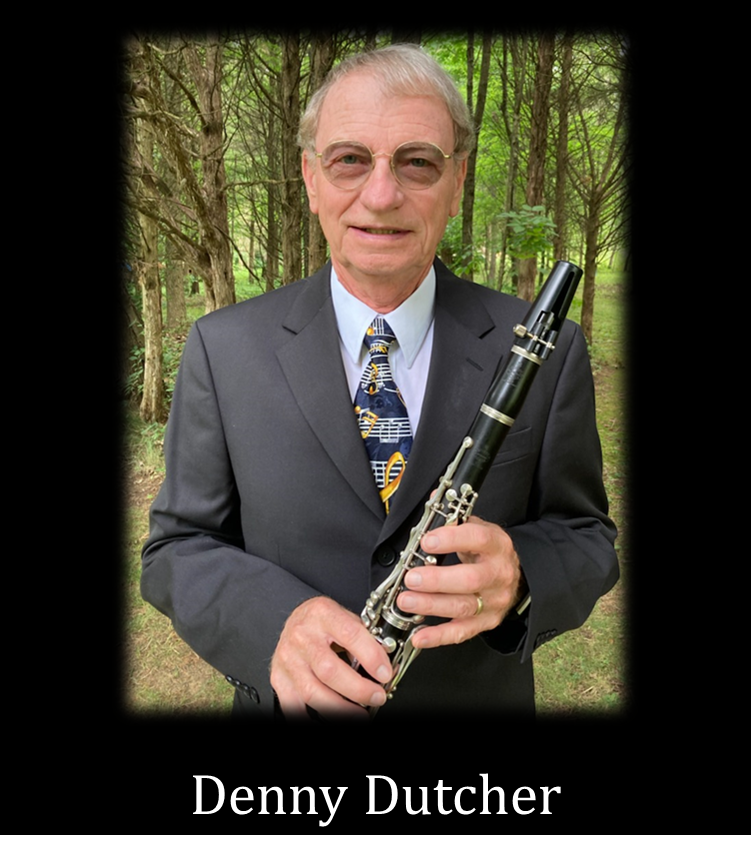 Denny Dutcher served as an instrumental music teacher for thirty-one years with the Centerville City Schools. He was assistant marching band director for seventeen of those years with additional assignments including high school and middle school jazz ensembles, assistant youth orchestra, and assistant high school orchestra director.

Locally, Denny has studied with Dayton and nationally known jazz musician Hal Melia. Denny is personally active as a performing musician on flute, clarinet, soprano, alto, and tenor saxophones. He also performs in pit orchestras for area high school musicals and has played with the Dayton Philharmonic Concert Band. For the past several years Denny has served as an instructor for the Dayton area New Horizons Band Program. For New Horizons he teaches adult beginners, band and jazz ensembles.
CONTACT
Drop us a note!
Email: Info@CentervilleCommunityBand.com
or fill out the form below and click [SEND]


Centerville Community Band
PO BOX 751986
Dayton, OH 45475-1986